A Simple Tool to Keep You and Your Community Safe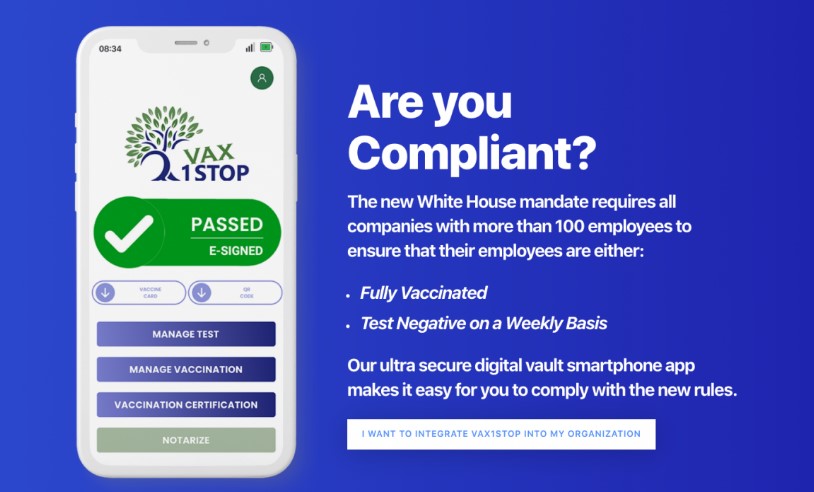 A Completely Different Approach – You Control Your Information
Covid-19 record keeping solutions are so politicized that the simple act of maintaining one's Covid status can be overwhelming.
That's why we have created the Vax1Stop app – a personal data vault solution. We put you in control of the info you enter into your personal data vault.
Our App is under your control. This means there are:
No 3rd Party Health Checks
No External System Accesses
No Convoluted System Transfers
No HIPAA Issues
What Does Vax1Stop Do?
Our app allows you to record your immunization and test information in a single, secure place. No matter what test, how it was administered, or where it was taken, VAX1Stop will make your results available through your personal digital vault. Our app is designed for all health tests and/or vaccinations and will be an invaluable aide in addressing current and future pandemics.
BANK LEVEL ACCESS SECURITY
Bank-level Access means that access to your personal information is protected using the same industry-leading technology that banks use. It does not get any more secure.
ULTRA SECURE DATA VAULT
Files that have been uploaded are encrypted using AES-256 before being saved. Every time a file is downloaded it is checked to ensure that it is exactly the same as the file that was uploaded and has not been tampered with.
ONLY YOU CAN ACCESS YOUR DATA
You have the only Key to your data. Using Anonymous Registration you are assured that no one else can access your information. Not even VAX1Stop staff members have access to your data.
YOU CONTROL YOUR DATA
You have complete control over your data. You upload your Test/Vaccination information, and you decide who sees it and when and where it is shown. You control result presentation and grant viewing privileges.
FULLY HIPAA COMPLIANT
This solution is completely HIPAA compliant. There is no 3rd party access to your data – you are the only one who can determine who sees your data.
STORED IN THE UNITED STATES
Your data is stored in your own data vault located here in the US. Your data is managed by SAFE4, one of the premier data security firms in the world. You have access to your data 24/7.